Ingrown Toenails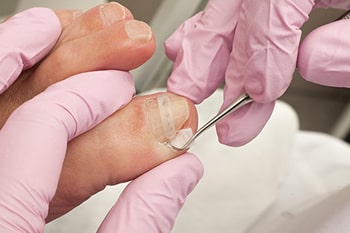 Ingrown toenails occur when the edge of a nail grows into the surrounding skin, rather than over it. This can cause symptoms such as redness, swelling, pain, and tenderness of the surrounding area. In more severe cases, the area can become infected and lead to bleeding, oozing of pus, and fever, among other symptoms.
Most ingrown toenails are caused by improper trimming of the nails. Trimming your nails into a rounded shape or cutting them too short can lead to ingrown toenails. When trimming the toenails, it is suggested that you use nail clippers to trim the nails straight across. The nails' length should be roughly even with the tips of your toes. Wearing shoes that are too tight and narrow in the toes can also lead to ingrown nails, as the tight shoes compress your toes and can cause the nails to dig into the skin. To avoid this, opt for shoes with a wide toe box.
Ingrown toenails are typically not serious and can be managed with home treatment. However, they can be dangerous for individuals who have underlying conditions such as diabetes, which can make foot wounds and infections more likely. Some people are also prone to ingrown toenails, and may require medical treatment. If you have painful or recurrent ingrown toenails, an infected nail, or an underlying condition that can impact your foot health, please seek the care of a podiatrist.