Foot Orthotics and Braces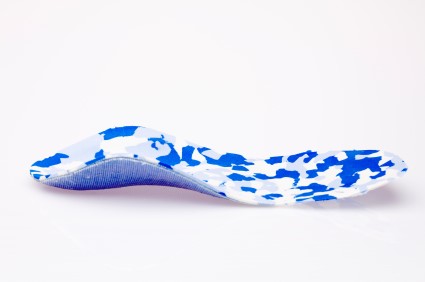 Custom orthotics are shoe inserts made specifically for your feet in order to treat foot pain, discomfort, deformities, or an abnormal gait or walking pattern. Orthotics can be prescribed to people of all ages, from young children to seniors. They are designed to cushion and support the feet, reduce symptoms of various foot disorders, and make going about your day-to-day life more comfortable.
A variety of foot conditions can warrant a custom orthotics prescription. Pain from chronic foot injuries, such as plantar fasciitis or a stress fracture, can be helped by wearing cushioning, or supportive orthotic inserts in your shoes. Symptoms from common foot deformities such as bunions and hammertoes can also be managed, and the progression of the disorders stopped or slowed down, by wearing orthotics. Foot structure abnormalities, like flat feet or high arches, can cause discomfort while walking or standing, which can be alleviated with orthotics. An abnormal gait, for example, one in which your feet turn too far inwards while walking, can also be corrected with custom orthotics.
If you are experiencing any foot pain or discomfort, please consult with a podiatrist. This specialist can determine if custom orthotics are right for you and prescribe them.
Custom Ankle Braces (AFOs)
We work with a pedorthist to customize the best custom ankle brace (AFO) or balance brace based on your need. Many patients do not know that balance braces exist. They are light weight and very easy to apply. Best of all, they can help with your balance which in turn, can help prevent falls.
ARIZONA BRACE®
The Arizona Brace® is our original design and remains our most popular for comfort and stability. The Arizona Brace® is prescribed to stabilize the ankle, talocalcaneal, midtarsal and subtalar joints. Often copied but never equaled, the Arizona Brace® is the only custom AFO proven in clinical trials to effectively treat Posterior Tibial Tendon Dysfunction (PTTD) as an alternative to surgery.
FEATURES & OPTIONS
Soft, comfortable molded leather inner shell lining
Padded with 1/8" medical-grade foam
Polypropylene-reinforced foot and ankle
Metatarsal-length foot plate
Custom anatomical reliefs
CLINICAL INDICATIONS
PTTD (Posterior Tibial Tendon Dysfunction)
Talocalcaneal varus or valgus
Tibialis Tendonitis (posterior or anterior)
Severe pronation or pes planus
Ankle Arthritis or Degenerative Joint Disease (DJD)
Charcot foot
Ankle, subtalar or midtarsal trauma
Chronic Achilles tendonitis
ARIZONA MEZZO™
The patented Arizona Mezzo™ is the 'happy medium' between a UCBL and the standard Arizona Brace®. The custom-fabricated Arizona Mezzo™ provides support for a variety of midfoot and hindfoot conditions requiring superior longitudinal arch support. Its low-profile design and soft leather lining mean easy shoe fit, exceptional comfort, and greater patient compliance. Partial Foot Arizona Mezzo™ also available.
FEATURES & OPTIONS
Low-profile design
Can be worn with practically any shoe – even sandals!
Custom-molded, intimate fit
Made from Orthopedic-grade, Chromium tanned leather and thermoplastic
CLINICAL INDICATIONS
Posterior Tibial Tendon Dysfunction (PTTD) Stages 1 & 2
Extreme flatfoot
Sinus Tarsi Syndrome
Hypotonia/low tone
Peroneal tendonitis
Plantar fasciitis
Osteoarthritis of the subtalar and midtarsal joints
AZ BREEZE™
The AZ Breeze™ offers the same great features as the Arizona Brace® but is lightweight, hypo-allergenic and moisture wicking – it's even machine washable! Covered with a synthetic material, it is indicated for patients with leather allergies or lifestyles and/or occupations prone to moisture.
The AZ Breeze™ material is available in all Arizona Brace® styles.
FEATURES & OPTIONS
Lightweight, durable polyester covering
Padded with 1/8" medical-grade foam
Polypropylene shell
Custom anatomical reliefs
CLINICAL INDICATIONS
Posterior Tibial Tendon Dysfunction (PTTD)
Talocalcaneal varus or valgus
Tibialis Tendonitis (posterior or anterior)
Severe pronation or pes planus
Ankle Arthritis or Degenerative Joint Disease (DJD)
Charcot foot
Ankle, subtalar or midtarsal trauma
Chronic Achilles tendonitis
Do I Need Custom Orthotics Or Prefabricated Orthotics
Why Do I Need Custom Orthotics
Why Do I Need Custom Orthotics